Police Discover Another Shallow Grave In Benue State
The height of a security in Benue State is becoming worrisome. The latest insecurity update has it that police in Benue have uncovered another Shallow Grave in the state.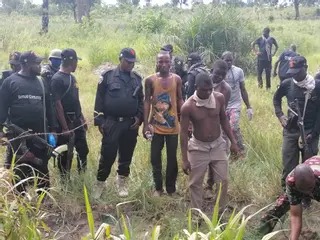 The discovery is happening after the arrest of two criminal suspects allegedly loyal to Azonto, the second in command of late gangster, Terwase Akwaza, popularly known as 'Gana'.
The names of the two Suspects arrested by the police are given as Aondoaseer Terseer referred to as Bob Tsetse, 23, and Orkashima David, 22, popularly called 'Cash money.'
the two Suspects let the police know where they perpetrated evil in this community and where they buried their victims in a Shallow Grave.
The discovery of the Shallow Grave is happened in Kastina-Ala Local Government Area of the state
The witnesses said the two were among those who over the years terrorised the communities of Mbamon, Tavachan, Michiche Council ward among others in Katsina-Ala LGA but fled the vicinity when security operatives began to close-up on them.
The two suspects, secondary school drop-outs, are members of a 10-man criminal syndicate that led security operatives to the place where they found six decomposed human bodies, including three males and three females, among them their wives who they eliminated between January and April 2021 respectively