Ohanaze Ndigbo Begs President Buhari to grant Nnamdi Kanu pardon to attend Burial Buhari to grant
Ohaneze Ndigbo Youth Council Worldwide has told Buhari to grant Nnamdi Kanu pardon to attend Burial. The Burial of Eze I. O. Kanu and his wife is in few days. The OYC is very worried about the military presence at Nnamdi Kanu's Village , Afaraukwu in Umuahia, Abia State.
The group said there is no need for any action promoting violence by the Nigerian Militia before and during the burial of Nnamdi's Parents burial. Saying the God's own state is peaceful and calm.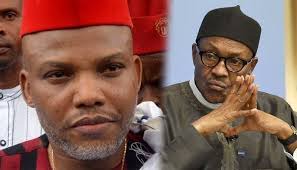 The group Appeal to the Nigerian President, President Muhammad Buhari to please consider the International damage it may cause the country, saying the reputation and image of Nigeria to the world is important. As many international community is keenly watching to see if there would be any Human Rights violation and abuses by the Nigerian Militia and Government.
The group also encourage PMB to attend or send a representative to attend the burial. They concluded that such act and gesture would mean a pardon to Nnamdi Kanu and he should release other Biafra agitators who are in detention .