Npower Gives New Update About The Payment Of April Stipends
It is no new that the beneficiaries of the Npower schemes are yet to be paid their April stipends up till date.Some of the volunteers took to social media to inquire why they are yet to receive their April stipend.FG replied through her Npower Twitter handle saying "your stipends will be paid shortly as payment is currently being processed".
FG also oblige N-Agro volunteers to use the appropriate link to fill the online FMARD survey e-form.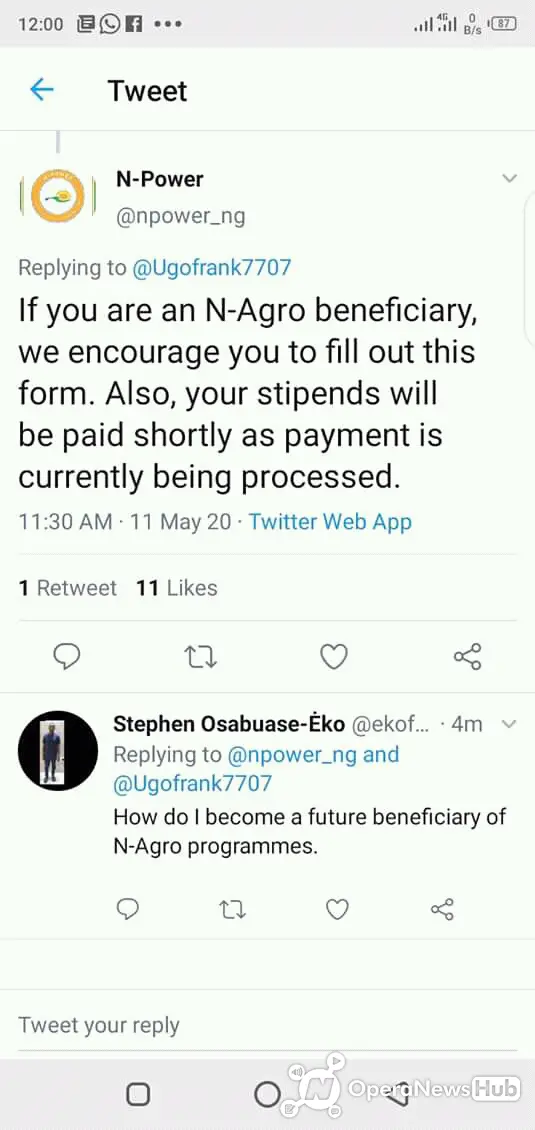 With reference to the prevailing circumstances surrounding late payment of stipends to beneficiaries, it seems the ministry of humanitarian affairs and disaster management has permanently placed between the second and third week of the preceding month to pay volunteers their previous monthly stipends irrespective of when the ministry of finance and national planning releases funds to NSIP for prompt payment.
Even though the minister of humanitarian affairs and disaster management came out to disclose that volunteers should always expect a late payment, volunteers Still feel it should not be a yardstick to always pay stipends late.
Considering the spate of economic hardship worsened by the covid19 pandemic, perhaps labourers would love to receive their wages as and when due in order to cater for their families.
FG and the ministry of humanitarian affairs disaster management and social intervention should do the needful and ensure that Npower volunteers do not bear the brunt of misappropriations, omissions, and late payments.
Federal Government should strive to pay Volunteers who are yet to receive their March and April stipends soon so that they won't die of hunger.
Volunteers should, therefore, exercise patients and be calm, your stipends will be released soon.
What are your thoughts on these issues?
Comment and shares your views on this platform
#Npvn news
#Staysafe covid19 pandemic is real