New System Scammers Are Using To Get Your Bank Details And Empty Your Account
These are two reported cases of the new modes of fraud through the loophole of Bank Verification Numbers which has been giving rampant problems in Nigeria from the onset.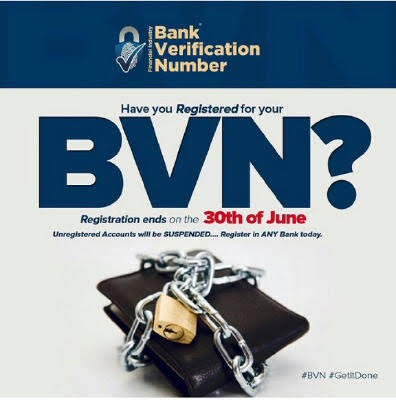 This new loophole of defrauding Nigerians by fraudsters using the minor problems associated with the BVN has been exposed. Reports from victims have it that the faceless fraudsters have the ability to empty the bank account of any individual if they obtain the person's BVN.
Below is a screenshot of a message sent to a bank account holder and also a scripted conversation between a scammer and a potential victim released for the purpose of sensitizing Nigerians against losing their hard-earned funds in a twinkle of an eye.
Victim: Hello,
Scammer: Good afternoon. My name is Benedict Thomas from the CBN Customer Management Division. I will like to know your name Sir.
Victim: My name is Femi.
Scammer: Hello Femi, we saw your number on our platform and we realized that you did not do your BVN properly at your bank. You will not be able to use your ATM in few minutes. Can you please confirm the bank you use?
Victim: First Bank and Wema Bank.
Scammer: Good. This is same information I have here. What is your major bank?
Victim: First Bank Sir.
Scammer: Do you have ATM on this account?
Victim: Yes Sir.
Scammer: I want to update your records for you. Can you give me your new address? Can you give me other phone numbers? Which one do you use to receive alert? Can you give me the number in front of your card?
Victim: My ATM card?
Scammer: Yes your ATM card.
Victim: 657939398383839484
Scammer: Can you give me the three numbers behind your card?
Victim: 133
Scammer: Please do not disclose your pin to anyone but CBN can see you PIN from its system? Can you confirm your PIN to me?
Victim: 3456
Scammer: You are correct. Thank you. So that this BVN update can work properly, please remove the sim of your phone for the next two hours. The one connected to your account.
Victim: I have two numbers Sir.
Scammer: I mean the one you use to receive alerts.
Victim: Okay Sir.
Scammer: Thank you.
This was exposed by an official of the Fraud Detection Department of a Nigerian Bank