Identity, Photos Of A Couple And Their Children Who Died In Abule Ado Explosion
The explosion rocked the area of Abule-Ado in Amuwo Odofin area of Lagos and the agony of a couple who died with their two children is painful and there no word to console the family. The photo of the couple has emerged online.
The incident said to have claimed 17 lives and many people are injured receiving treatment in the Navy Hospital in Ojo. Properties worth millions have been destroyed by the explosion.
A twitter user who identified the name of the wife as Chisom, and posted the photo of the couple but failed to mention the name of the husband.
"The number of people who died in the Explosion this morning will look like statistics until you have a friend or family member in the number, I'm so pained tonight. Nigeria would test your strength, RIP Chisom and RIP to your husband too 😭😭😭😭😭😭 "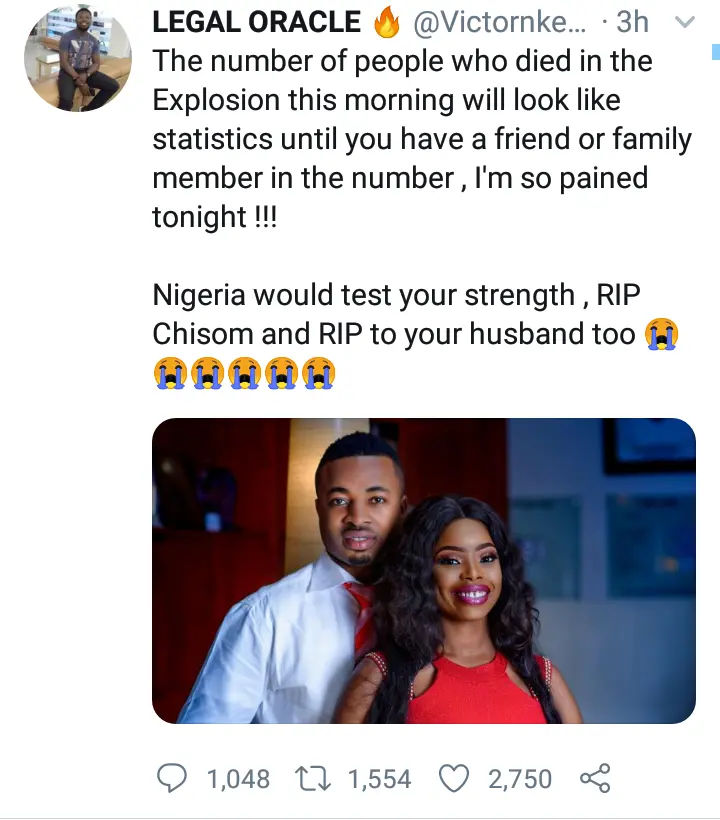 The couple is just a few out of the scores of Lagosians who lost their lives in this ugly incident.
The fire was reportedly put out today by 11:30 pm according to the NNPC General Managing Director, Mele Kyari.
The cause of the explosion is yet to be ascertained and the investigation is still ongoing to ravage the cause of the explosion.