How Do I Change Crypto To Cash In Nigeria?
Changing cryptocurrency in Nigeria has been a questioning issue for many crypto traders. I, personally, have had issues with how to change crypto to Naira in the past. As you may know, cryptocurrency has been on high rise in Nigeria, especially since 2021. As the use of crypto continues to increase, it is ideal that you know how to convert your coins to fiat currency (Naira) when you want to utilise its value.
So, if you're a Nigerian crypto enthusiast and you are looking for ways to change crypto to cash in Nigeria, well then, you're in luck. Because in this article, I will be providing you with a detailed and complete guide on how to convert bitcoin to cash in Nigeria.
Let's dive in!
What Is a Bitcoin Wallet? And Do I Need It?
 First things first, it is important you have a Bitcoin wallet to be able to convert Bitcoin to Naira. But you may be wondering, "What is a Bitcoin wallet?"
A Bitcoin wallet is a software program that stores your private keys. Now let's build an imagery to set the pace. I would like to describe a Bitcoin wallet as safe. Remember that safes have locks, and to have access to these safes, you need the keys to lock and unlock them in order to store money or valuables. This is just the same as Bitcoin wallets. As I mentioned, bitcoin is not a physical currency, it's digitised. And to store your digital currency which is Bitcoin, you need a wallet. This wallet can be symbolised as the safe and the private keys are the safe lock keys. These private keys are used to access your Bitcoin addresses and send or receive Bitcoin. When you receive Bitcoin, it is sent to your Bitcoin address, which is stored in your wallet.
Still confused? My guide titled "Exploring Different Types of Bitcoin Wallets: Which One is Right for You? " would give you more understanding.
Beginner's Guide to Bitcoin Wallet Opening in Nigeria
 Now that you know what a Bitcoin wallet is, you will need to open one. Here's a quick guide:
Opening a Bitcoin wallet for yourself is very easy and straightforward. You can do this with just a smartphone, either an Android or iPhone device. Here's how to open a Bitcoin wallet with Breet:
Download the Breet app on Google Play Store or Apple Store. The breet web version will be available soon.
Install the app on your device
Sign up by creating a Breet account for yourself.
Finished!
How Can I Convert My Bitcoin Into Cash In Nigeria?
Let's speak about how to turn your cryptocurrency into cash now that your cryptocurrency wallet is set up. One of the most popular ways to do this is by using a cryptocurrency exchange. Nigeria has so many crypto exchanges out there with Breet being one of the best.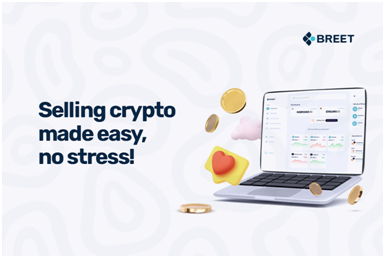 Breet app is one of the most widely used apps in Nigeria for selling cryptocurrencies. It offers the best and highest crypto rates in Nigeria and is automated, easy to use, quick, safe, and fast.
Breet is an OTC cryptocurrency exchange platform that makes it simple to sell cryptocurrencies in Nigeria and allows individuals and businesses to rapidly convert cryptocurrency to fiat currency.
Breet allows you to convert Bitcoin to Naira in under five minutes. This in itself is a fantastic feature. As a result, merchants may now accept cryptocurrency as a form of payment without having to have clients wait hours for payment confirmation.
Breet is unrestricted as well. There aren't any additional costs associated with receiving, processing, or withdrawing money. Breet is completely free to use. For many Nigerian cryptocurrency traders, using Breet for free eliminates the issue of high and unpredictable costs.
There is also no cap on how much you can deposit or withdraw. Before you may withdraw, you don't need to have enough cryptocurrency to equal thousands.
Breet is simple, cost-free, and accredited. Many crypto users, like myself, have arguably stated that Breet is the best crypto trading exchange in Nigeria and Ghana. The outstanding reviews for the Breet app are convincing evidence.
Another option is to use a peer-to-peer (P2P) trading platform. P2P platforms connect buyers and sellers directly, allowing for more flexibility in terms of pricing and payment methods.
Peer-to-peer trading gives consumers some degree of control over the process, but it should be noted that there are hazards involved. For users who are wary of taking risks, an exchange platform like Breet can be useful.
For risk-averse users, such as enterprises that wish to safely accept coins and convert them to cash money without dealing with a third party, any agents, or spending a lot of time, Breet is necessary.
Lastly, you can also use a Bitcoin ATM to convert your crypto to cash. Bitcoin ATMs are available in several cities. But this is not the case for us, as Bitcoin ATMs are not available in Nigeria.
Whenever you want to change crypto to cash in Nigeria, always use Breet to enjoy its unique advantages.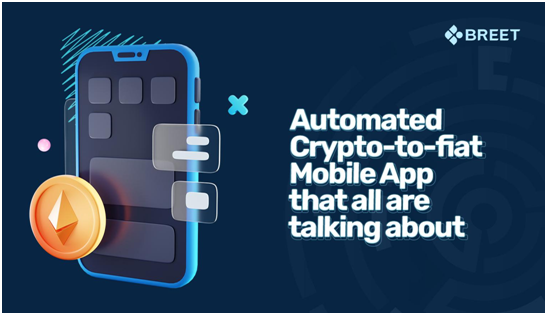 Download Breet App on Android here