FG Sends Message To Npower Beneficiaries Over Unpaid April Stipend
The federal ministry of humanitarian affairs and disaster management has alerted both volunteers and all aggregators that oversee the smooth functioning of the program that their funds have been paid.While Speaking in an interactive session, the minister said reiterated that NBuild and Ntech will be paid soon. That Build and Ntech is absolutely an important aspect of the NSIP because learn and apply the real and lively skill that will definitely give them lively hood. She further debunked the fact of no payment for Ntech and Build.
She also buttressed that the program is turning a new leaf by ensuring there is accountability, transparency and fairness."Government is really committed to human capacity development she said.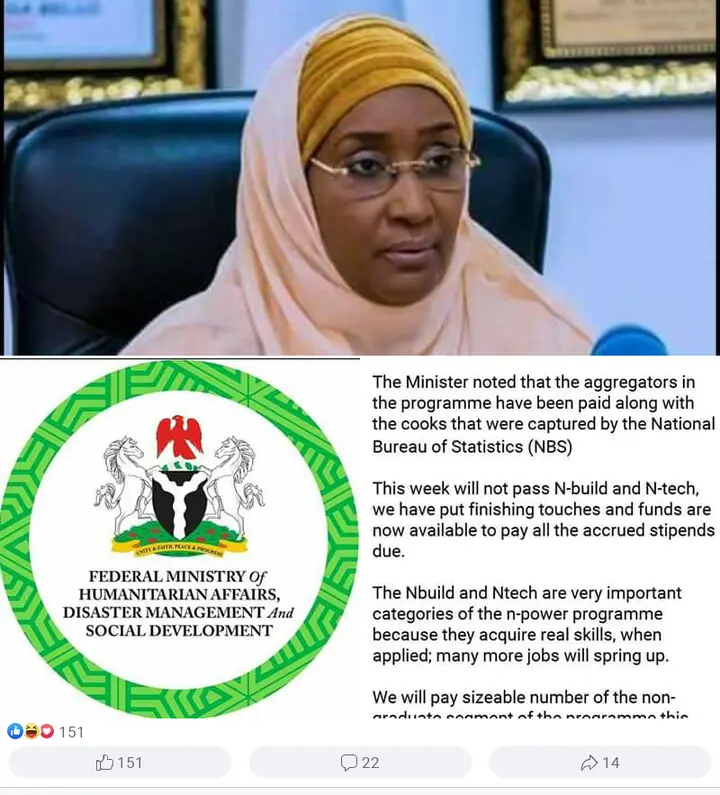 We hope that this gesture will automatically redefine the complaints of the program and further better the lives of other volunteers. Will there be issues of late payment again? who knows for it might have come to an end. The call for permanency has been so intense from volunteers and national assembly members soliciting for Volunteers be given permanent jobs.
Contrary to volunteers wishes, FG has made it glaring to the beneficiary that no Permanency plan exists but only an exit package. From the look and feel of things, it seems both batches of volunteers will exit from the program in the same period. If that will be the case, it is likely that the fight of Permanency will be an effort in futility because its impracticable for FG to employ approximately five hundred thousand volunteers into various civil service.
It will be unwise for volunteers not start planning for an exciting era in order to avert financial discomforts, lacks, suffering, owing, and poverty.
But one could simply ask, why can't FG use volunteers as a replacement for several advertised civil servant job placements? The gospel truth is because politicians and elites do have the upper say in terms of employment and job placement. In Nigeria, the likelihood of getting a job in this country seems to be very slim unless you have a strong political Godfather. Food for thought.Meaning the system still remain untransparent and unjust giving no hope to the less privileged and third-class citizens.