Chioma threatens to cancel wedding if Davido find guilty of impregnating the lady who accused him
Chioma is threatening to pull out of the wedding between her and Davido if truly Davido actually impregnated the lady who accused him.
Davido is trying very hard to prove his innocent as he is threatening fire and brimstone as he promises to send lady and her friend who accused him of getting her pregnant.
The music star made this known via his Instagram stories on Wednesday, October 23, 2019. According to him, they will be spending a long time in jail.
"These hoes going to jail!! Mark my words," he wrote.
He's making his threat come true by putting up a N1million reward for anybody who can provide him on details of the ladies involved.
See his post below;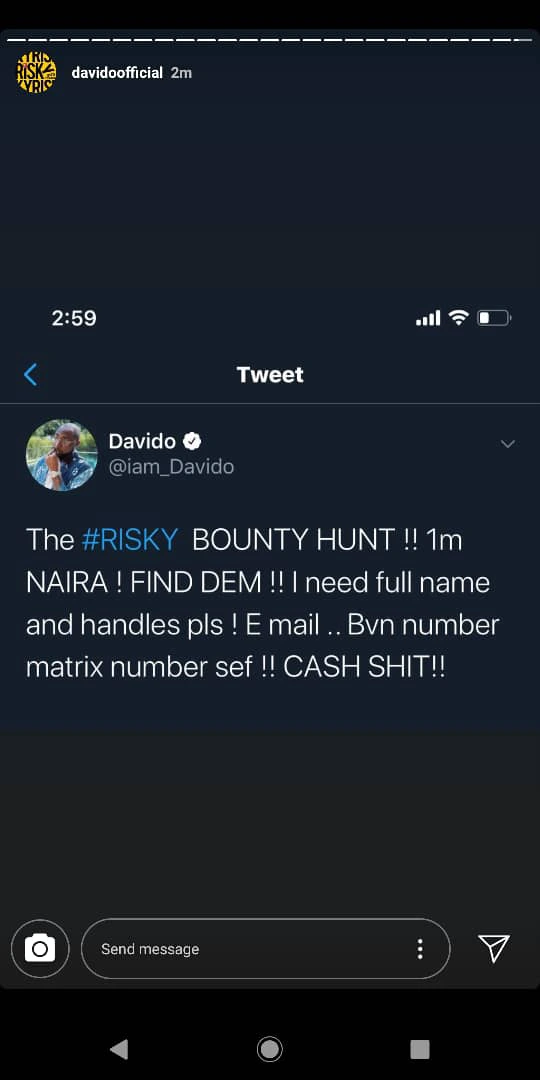 In the over three minute video, the two women obviously irritated and angry claimed that Davido had through his manager, Lati accosted them during a birthday gathering at Eko Hotel in Lagos.
According to the lady, after having sex with Davido, she found out that she was pregnant and all moves made towards reaching Davido and his manager proved abortive.
She, however, wants Davido to accept the pregnancy. We will continue to monitor this story as it develops. Davido only recently welcomed a baby boy with his soon to be wife, Chioma.