Bishop Oyedepo Launches Mobile App And USSD Code For Payment Of Tithes And Offerings
The founder of Living Faith Church, aka Winners Chapel, Bishop Oyedepo has launched a mobile App and USSD code for the members to pay their tithes and offerings.
The payment method is necessary as the Government directive will not allow a large gathering of members in service. For church not to lose out completely in payment of tithes and offerings, members can make use of the mobile platform and USSD code to comfortably make payment at the comfort of their home.
Who says Tithes and Offerings are only meant to be put in envelopes? Well, no one saw this new method coming, as Bishop David Oyedepo creates a mobile platform where you can easily pay Tithes and Offerings straight from your mobile phones.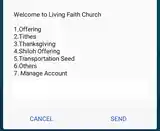 By dialling the USSD code 38930*1# on your phone, a notification pops up where you can pay your offerings, Tithes, Thanksgiving donations, Shiloh offering, transportation seed and other donations to the Living Faith Church, aka Winners Chapel.
Who says the church hasn't gone digital should have a rethink. I mean, if you can have a live deliverance session with your tablet, how much more paying your Tithes and offering through your mobile phones?
Of course, this new method has been met with criticism, as many people online think it's not such a good idea. Some say churches are now going against the original reasons they were created. Others say it's a scam. While some say it's a business venture.