Biafra: Plot To Arrest Nnamdi Kanu During His Parents Burial Has Been Exposed
Popular activist, Mr. Nnamdi Kanu is still solid on his self determination and will take to the studio for some talks.
However, there has been speculations that he will be attending his parents funeral and eventually he may be rearrested in the process.
His father and his mother will be buried next week Friday, February 14th, in Afara-Ukwu, Umuahia, Abia state of Nigeria.
As we speak, soldiers have taken over the whole village.
As a first son of his parents, it is traditionally compulsory that he attends the funeral.
But, having been forced into exile while on bail, he has become a wanted man in Nigeria.
Will he attend the burial as the tradition demands?
His broadcast today by 7pm should address that.
It would be his last broadcast before his parent's burial.
Next week will be a blockbuster.
To arrest him, people will have to be in strategic areas of get him.
Will they succeed? Or will he boycott his parents burial knowing fully well his father was a king and needs to be present?
7pm tonight he will be transmitting live.
I won't miss this broadcast.
Will you?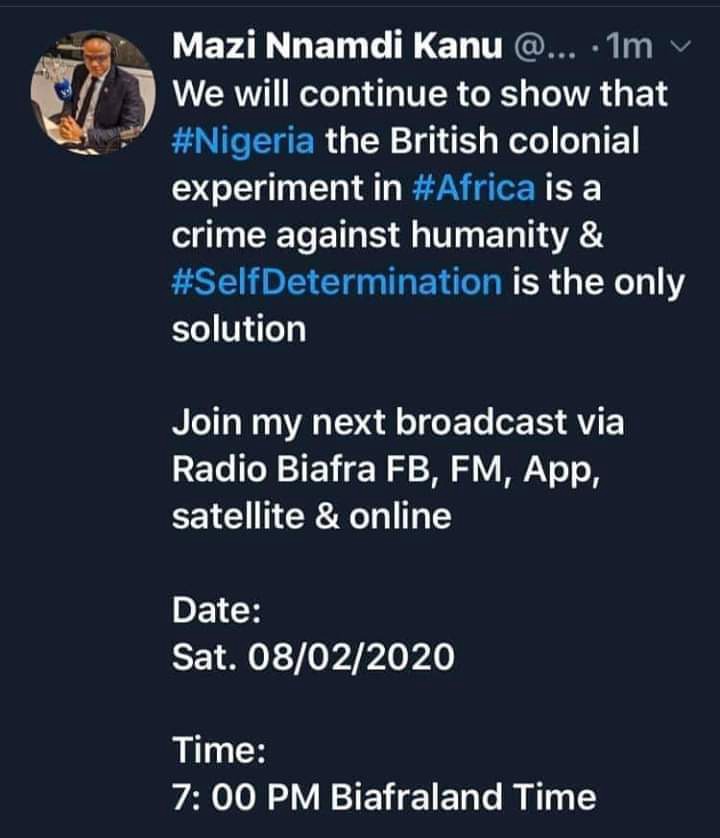 What do you think about this?